Tue, 21 Dec 2004
Yahoo is shutting down their Money Manager.
We regret to notify you that we are closing Yahoo! Money Manager, effective February 1, 2005, and your account will be automatically cancelled at this time. This closure means that we will no longer offer the following tools: Expense Manager, Net Worth, Finance Planner, and Account Access for banking, credit card, investment, and loan accounts.
It sounds like they're basically gutting Yahoo Finance if they're removing the ability to access investment accounts. I guess most banks offer similar services now, but Yahoo has always been good at keep a nice, simple interface.
I wonder if Google is working on something in this area.
business | Comments | Permanent Link
How many stars does Napoleon Dynamite get?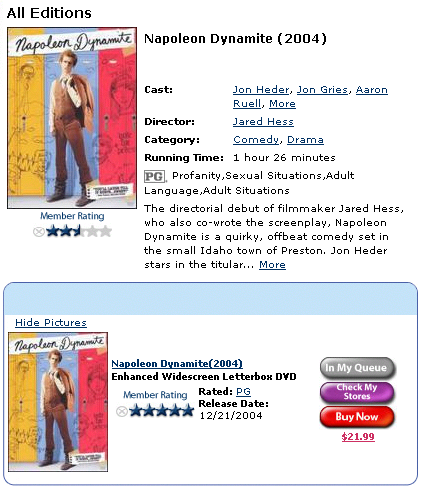 Hmm, the Enhanced Widescreen Letterbox DVD version must be much better.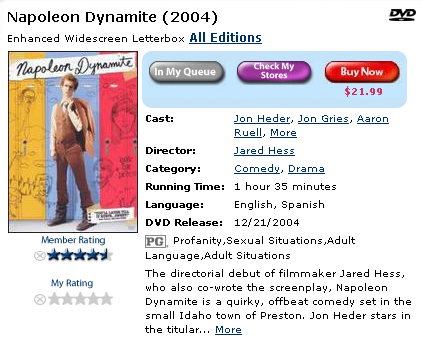 Update (Fri, 24 Dec 2004): I received Napoleon Dynamite from Blockbuster. The sleeve that DVD came said that it was disc "1 of null".
tech | Comments | Permanent Link
Thu, 09 Dec 2004
Hans F. Sennholz has an interesting proposal for ending Social Security. The basic ideas are:
Tell recipients how much of their contributions, including interest, they have already withdrawn with each check.
Once they've withdrawn benefits equal to their contributions, they must apply for welfare. This would eliminate payments to those who don't need it.
Let people opt out of contributing. Private insurance can replace Social Security for people who want to use such a system.
Charities can take over caring for the disabled.
The holiday season is a good time to think about the 15.3% of your income that the government has taken from you to gift to others.
culture | Comments | Permanent Link
Thu, 02 Dec 2004
After Apple's recent run up to almost $70 a share (over 10% since I sold half my shares 10 days ago), Smith Barney downgrades AAPL to hold, advises selling, and at the same time, increases their 12-month target to $75.
"Despite the fact that we are raising our target multiple on calendar 2006 operating earnings this morning from 26 times to 29 times, we cannot justify more than a $75 fair value in 12 months. And while this suggests another 10% upside from current levels, we can no longer recommend that medium- to long-term investors place new money into the shares," the brokerage wrote.
The downgrade occured today when the stock opened at 66.13. A 13% increase within 12 months seems like a good investment. So what should investors do, Smith Barney? Hold, sell, or buy this undervalued stock?