Tue, 22 May 2007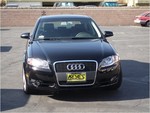 I bought Denisa a new Audi A4 a few weeks ago. The last new car I bought was my 1999 Honda Civic. When I bought that car, I think it was still relatively novel for a buyer to have looked up the invoice price on Edmunds.com so I felt relatively well-prepared to negotiate when I went into the dealer. I ended up paying $226 over invoice. I had pre-arranged financing at around 7%, but they offered me 4.9% if I'd buy a LoJack for $600, which worked out to about the same monthly payment. My car was stolen on Christmas Night, 2003, and the police helicopter found it within about an hour of when I reported it so that deal worked out alright.
This time, my strategy was to see how close I could get to invoice by going back and forth between a number of dealers. I submitted my info through Edmunds which sent it on to Keyes Audi in Van Nuys, The Auto Gallery in Woodland Hills, and Santa Monica Audi. I never talked to the Santa Monica folks, but I had quite a bit of interaction with the other two, as well as Pacific Audi who got my info through CarsDirect, I think. Most of the dealers seem to hate giving you a price over email or the phone. The Auto Gallery was the exception.
The car Denisa wanted was a black, automatic (CVT) A4 with just the Premium package, which is the cheapest package with leather seats. Invoice was $28,663. (Edmunds now shows it as $28,718 and the dollar is up slightly against the euro since I bought, but I don't know how often they update the numbers.) The Auto Gallery quote was $29,550 which I was told "is the best that I can do for you over email. If you want to talk to my Manager David over the phone, perhaps he can do better."
I stopped by Keyes that night and the woman who had emailed wasn't in so I talked to Greg Arouchanov, one of the salespeople on the floor. With a printout from Edmunds in hand, I asked what the best price he could give me on the car I wanted. He said it was basically up to me, "whatever amount over invoice I felt was fair". I left with verbal quote of invoice.
Now I was getting somewhere. I talked to David Lang from the Auto Gallery the next day on the phone. He also told me he could sell me a car at invoice, but the price he gave me was a bit higher than $28,663. I think the car he had in stock had some extra option, but I was on-site with a client and didn't have time to talk to him too long.
So now I have two dealers who will sell at invoice. Is invoice the new MSRP? Edmunds didn't show any dealer incentives or even a hold-back on Audi's. Is the published invoice price really the price dealers pay? Beats me.
I also talked to David Gentry from Pacific Audi on the phone a number of times. He told me that he could beat any other dealer's price, but wouldn't give me a number over the phone. I wasn't about to drive down to Torrance without a number so I never met David in person.
At this point, neither Denisa nor I had actually driven an Audi. So on April 23th, we went down to Keyes and drove both the A3 and A4. The A3 was more fun to drive with its fancy double clutch transmission, but Denisa wanted a grown-up car, so the A4 it was. Greg wasn't in so we talked to Daniel Mocioaca. I told him we were planning on buying a car the following Saturday, but he was pushing me for a number that would sell me on the car. I told him that I had multiple quotes at invoice, so I was just looking for the best quote under invoice. I don't know that it's a good negotiating tactic to never give a number, but I really wasn't prepared to buy the car that night; we hadn't yet sold Denisa's old car, and I needed to transfer some money into our checking account. I left encouraged when he told me he could sell me the car $500 below invoice. The cheapest black, automatic A4 with the Premium Package they had in stock also had heated seats which Daniel said he'd throw in at no charge.

A couple days later, I talked to David at Pacific Audi again. He said that he couldn't beat the Keyes price. I also emailed me David at The Auto Gallery. The best price he could give me was $28,592, $429 more than the Keyes quote, for just the Premium Package.
On Thursday, the 26th, Daniel from Keyes called and asked if I'd be willing to buy the car that day if they would give me the $2,300 I wanted for Denisa's '97 Mercury Tracer. I was pretty confident that I wasn't going to get a better deal on the A4, so whether they bought the Tracer or not, I was probably going to be buying the car from them. He wasn't willing to fax me a written quote, so I then I was thinking that they wouldn't honor the quote when I got down there. Worried that I might be wasting my time, I reluctantly drove down. The manager asked if they had to buy the Mercury, and I said that it'd be nice, but no. I ended up selling it for $2,300 the following Saturday to the first person who drove it.
They didn't have the car with heated seats any more, or they found a cheaper one to give me, but I ended up buying the car for $28,163 with the Premium Package and Sport Suspension, another option I didn't care about that had a lower invoice price than the heated seats.
The following week, I took my sales contract to The Auto Gallery to take advantage of their $200 low price guarantee. David reluctantly agreed to send me a check. A few days later I got a call from Glen Fagin at the Auto Gallery telling me that the check had been issued, but that the boss had stopped payment because I "had bought a used car". My sales contract said "used" where it should have said "new". I had noticed this before signing, but the sales manager who drafted the contract told me it was because it was a dealer transfer and wasn't in Keyes's computer yet. He was able to print out the contract with the VIN so it was in a computer, but I'm guessing the dot-matrix printer is driven by antiquated software.
So I went back to Keyes, had them draw up a new sales contract and an "Acknowledgement of Rewritten Contract", and faxed it to Glen. Glen couldn't read the fax, so I emailed him pictures I took of the documents. I received the $200 check a couple days ago.
So that's how I bought an Audi for $500 under invoice (plus sport suspension!) and made $200. I don't know that it was the most productive use of my time, and I spent way more than I would have on a car for myself, but I did feel a sense of accomplishment when it was all done.
The next time I buy a new car, I'll offer invoice, and then try to negotiate down from the best offer in $500 increments between a few dealers.
If you're in the LA area and looking for the best deal on an Audi, visit Daniel or Greg at Keyes. If you only want to negotiate over the phone or via email, contact David at the Auto Gallery.